Fort Pitt Spring 2016 Tele-All REV

Adobe Acrobat Reader DCsoftware is a PDF file viewer that can open and interact with all PDF documents. To download Adobe Acrobat Reader DC please click here.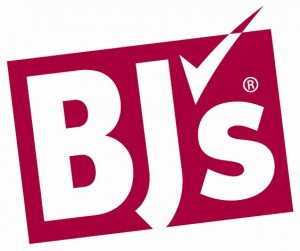 Please click on a link below for an application for the Fort Pitt Chapter #13, to view, renew or sign up for a BJ's membership.

Please click here for the BJ's flyer.  Please click here for Pioneers mailing instructions for new member/renewal forms
BJ's application for the Fort Pitt #13 Chapter PDF
NOTE: If you live in New York or New Jersey or any other state that has a tax on memberships you must include the tax in your payment.

Welcome to the New Vision | Pioneers – Fort Pitt Chapter #13
Welcome to the Fort Pitt Chapter #13 web page! We hope that our website will help you understand a little bit of what the Telephone Pioneers do and who we are.
Our Chapter was formed in 1922 and our members have been "answering the call of those in need" since then. In addition to Western Pennsylvania, Fort Pitt Chapter extends from Erie and Bradford in the north, to Washington, PA in the south and to Punxsutawney and DuBois in the east with our Chapter office on the north side of Pittsburgh   Our volunteer projects are vast and touch children, seniors, domestic violence victims, soldiers, Veterans, homeless, patients and pets. We are able to plan and complete these projects with our fund raising efforts. At this site you will be able to join over 4,000 active and retired Verizon Employees as a member of our Chapter. Please take a little time to learn more about us and our projects. We hope you will join us in giving back to our communities. You can find all the important contact information and more about our activities by clicking on one or all of the links at the top.
Thanks for visiting!

  In Memoriam – Claire "Perk" Bernardo
We are saddened to report the passing of our DuBois Club President, Claire "Perk" Bernardo.  Perk had a stroke and passed away on January 26, 2016.  Not only was Perk a very active President working with her Church, Mt. Zion Methodist Church in Dubois, but also the DuBois Food Bank and Salvation Army were recipients of her generous time.  She enlisted the help of her Vice President, Nancy Williams, and her Family was also very actively involved in her projects including the preparation of beautiful handmade blankets used in our veteran's projects.  We will miss her caring ways and charitable spirit.

Quilt of Valor Presentation
On December 8, Don McIlrath, a Veteran of the Korean War and our Member At Large, was presented with a Quilt of Valor.  The mission of the Quilts of Valor Foundation is to cover service members and veterans touched by war with comforting and healing Quilts of Valor.  Congratulations to Don and "Thank You Don" for your service to our Country!

The Annual Sharing & Caring Boat ride for Veterans in Western Pennsylvania was held September 8th through the 11th on the Gateway Clipper in Pittsburgh PA. This was the 31st year for the event with 700 Veterans, along with their family members and escorts attending. There were 24 New Vision Pioneers from Fort Pitt Chap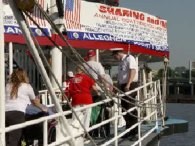 ter on hand to help distribute tote bags at the boat dock in Station Square. It's hard to believe, but we have partnered with Sharing & Caring for this very worthwhile event for over 20 years.   Lynne Price, our Pioneer coordinator says, "It's worth all the effort everyone puts forth. When you see the Veterans at the boat and realize all that they have done for us and our Country and how much they appreciate their day on the boat. God Bless all of them and all of the Pioneer volunteers for helping all these years!" Not only does Lynne coordinate the collection of new white socks, of which 5,000 pairs were donated this year, she also coordinates the volunteers who pack and hand out tote bags to the Veterans as they exit the boat ride.

Fort Pitt members had the pleasure of meeting with Michael Larkin, a great-great nephew of Thomas in October and coordinating a volunteer activity with him and 17 Pioneers to pack 410 breakfast bags for the Severe Weather Emergency Shelter operated by Operation Safety Net through Mercy Hospital and toiletry kits for the agency.  Michael was able to participate 'hands-on' with us and the representative from OSN.  At lunch afterwards, he made a brief presentation of the birth certificate, passport, pictures of his homeland in County Mayo, Ireland, and the certificate that Thomas Larkin received when he retired from the Telephone Pioneers of America.  Michael explained that the original Pioneer certificate was so proudly displayed at their home.  He also presented Fort Pitt Chapter with a clock embedded in hand carved sycamore from their family farm, and a beautiful calendar from Ireland.